Free Risk management software for SMEs

Dutch risk management software company RiskRhino is the first to offer a free mobile app to support SMEs with their risk management.
All companies have to comply with rules and regulations. Large enterprises work with advisors, employ compliance officers or risk managers and use software (RegTech) to assure that the organization remains compliant and that risks are properly managed. SMEs face the same requirements and risks however, they often cannot afford to hire advisory firms, employ risk managers and compliance officers, or invest in RegTech.
Free risk surveys developed by expert partners
RiskRhino now makes professional risk management software available to SMEs. The company offers a free survey app in which managers can complete surveys and get instant reports to help manage risk.
A growing list of advisors, such as law firms Arthur's Legal and Bosselaar&Strengers advocaten, Labor services MKBasics and Business Risk and Compliance advisor Bcon-PRO understand the importance of RegTech for SMEs. Therefore, they partnered with RiskRhino in the creation of free surveys that are easy to complete. The resulting reports offer quick insight in regulatory and other risks that the enterprise faces.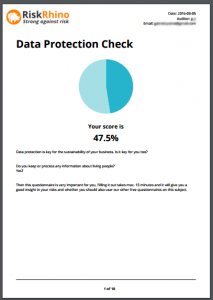 The surveys are set up in a way that they also support the identification of possible control actions to mitigate the risks. This way, enterprises can quickly establish whether they are at risk and what appropriate steps should be taken next to tackle those risks.
Dr. Tim Willems, CEO of RiskRhino:
"We have already been supplying risk management software to large enterprises for years. By offering free and easy to use technology for regulatory compliance (RegTech) to the SME and startup market, we can make SMEs benefit too without the high costs that usually come with risk management. With the results of the surveys, enterprises can determine which risks they want to accept and which risk they want to mitigate, if necessary with support from us or one of our partners. We welcome expert partners to create surveys for multiple jurisdictions. Together we are constantly working to expand the survey library both for Dutch and international regulations."
You can find more info about the free RiskRhino app at: www.riskrhino.com/